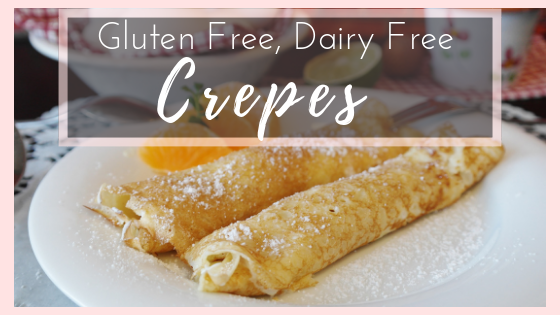 We have a tradition in our family.  Friday night pancake night.  Over time, pancake night has morphed into crepe night… because I'm just in a crepe state of mind, you know what I mean?  Actually, I'm not even really sure what I mean.  But, crepes are delicious, and I hadn't had a decent one since going gluten free.  That is until this recipe.  It changed everything.  For right now, pancake night has become gluten free, dairy free crepes night.
We always look forward to Friday nights.  Not only do we take a break from the usual dinner fare and enjoy crepes (or pancakes), but we also get out tiny chairs for the kids, set them at the coffee table (tiny table, as our kids call it), and watch a movie together.
THIS POST PROBABLY CONTAINS AFFILIATE LINKS.  IF YOU WANT TO READ THE FULL DISCLOSURE POLICY, CLICK HERE.
Actually, lately it hasn't been a movie.  Thanks to our new Amazon Fire Stick (which by the way is saving us a bundle- we cancelled our satellite TV and exclusively use the fire stick), we've been watching Full House with the kids.  It's so awesome.  I think I enjoy Full House more now than I did as a kid.  Maybe it's because I'm watching my own kids watch it.  Anyway, you can see how this all totally relates to the gluten free, dairy free crepes recipe (or not at all).
What I'm trying to do is paint a picture for you of our favorite night of the week.  It's the night where we eat something kind of sweet rather than savory, and eat dinner in front of the TV.  Perhaps that admission will usher in some judgement, but for our family, it has turned into a really special, enjoyable time.
CHECK OUT THIS FUNNY, RELATED POST ON HOW MOTHERHOOD CHANGES YOU
Supplies
There's not many things you need to make these fantastic gluten free, dairy free crepes.
The first thing you need is a mixer.  I prefer to use a stand up mixer for all my baking.  My kitchen-Aid mixer was a hand-me down from my mom (years ago), and she used it for years before me.  It's still going strong.
You also need a frying pan.  This is the one I use (except mine is red).  I love this one because it's not going to slowly kill you.  I'm sorry… too much?
What I mean, is that this frying pan is not the kind of non-stick doing damage to your body.  It's ceramic coated and PFOA free.  I use this pan at least once a day… usually more.  So I've invested in 2 of them.
CHECK THIS POST FOR MY "MUST-HAVES" IN MY GLUTEN FREE, DAIRY FREE KITCHEN
The other thing you need is a good flipper (turner spatula if you want to use the fancy lingo).  You don't just need this for crepes and pancakes.  Make sure your kitchen is equipped with at least 3 of these bad-boys, because chances are you'll use them more than frequently.
Then you just need a ladle, some parchment paper, and a baking sheet… and that's about it, folks!
The ingredients you need to achieve the perfect gluten free, dairy free crepes
I have tried many variations of this, and I've found ONE way that works best.  Listen up now, people, this is make it or break it time.
The flour that you NEED to use is Bob's Red Mill Gluten Free All-Purpose Baking Flour. 
I wish I was exaggerating when I say that literally EVERY other flour I used stuck like crazy, and I ended up with a shriveled, sticky, disaster.
You need a tiny bit of coconut oil in the bottom of your pan.  I use the virgin coconut oil, but if you can't stand a coconut taste, use the refined coconut oil.
For the amount of crepes made in this family-sized recipe, you need 9 pastured eggs.  You can check out this post here on why I choose to use pastured eggs for our family.  We also have a pasture full of hens, so it would be a little silly not to use those eggs, wouldn't it?
You'll also need 3 cups of almond milk (or coconut milk), about 3/4 of a teaspoon of celtic sea salt,
and 2 tiny scoops of stevia.  You could choose to use a couple Tbsp of cane sugar instead, but why not decrease sugar where it's easy?
YOU MAY BE INTERESTED IN THIS POST REVEALING THE LINK BETWEEN SUGAR AND INFLAMMATION
6 ingredients to make delicious gluten free, dairy free crepes… that's it!  Who can't get on board with that??
The Process of making the perfect gluten free, dairy free crepes.
This makes a lovely, large batch, that is just right for my family of 5.  As my kids get older (right now they're 7, 5, and 3), I may increase the recipe.  For right now, though, it's perfect!
The first thing you'll want to do is preheat the over to 170 degrees Fahrenheit.  This is where the crepes will stay warm.
Next, add 1.5 cups of the gluten free flour to your mixing bowl.
Add 3/4 tsp of celtic sea salt.
Mix together.
Add 9 eggs and mix well.
Add 3 cups of almond milk (or coconut milk) to the bowl.  Scrape the edges down and mix well.  Check again if you need to scrape the edges down, then mix again.  Even though it looks liquidy, there could be clumps hanging out on the side or bottom of the mixing bowl.
Heat the frying pan over medium-low heat with a tiny bit of coconut oil.
Once the pan is good and hot and the coconut oil has melted, ladle in a scoop of the batter.  Pick up the pan slightly, and "swish" the batter, so that it covers the full bottom of the pan.
When you see the bubbles on top of the batter 'pop,' then loosen the crepe from the edges of the pan and flip!
I'm not going to lie.  This first crepe tends to be messy.  But after this crepe paves the way, the rest are generally pretty easy!  If it doesn't flip well, I usually just ball it up, and give it to my daughter.  I cut her food for her, so she doesn't notice the difference, anyway.  That tip is free.
Now that the crepe is flipped, it only needs to sit in the pan for a few moments.
Using your flipper, scoop it out of the pan and onto a plate.
Give it a moment to cool slightly while you scoop the next ladle of batter into the pan (you don't need more coconut oil after that first crepe).
Now, roll the crepe up.
Place the crepe on a baking sheet that you have covered with parchment paper, and place it in your preheated oven.
Do the same process for each crepe.
CHECK OUT THIS POST WITH MY FAVORITE HEALTHY COOKBOOKS TO COMBAT AUTOIMMUNE DISEASE AND INFLAMMATION
There you have it you guys.  I hope you enjoy these gluten free, dairy free crepes as much as my family does!  Let me know in the comments below what you thought of the recipe!
If you want to make your life easier, simply fill in the form below, and I'll send a printable version of this recipe STRAIGHT to your inbox!