About
Hello!
My name is Cecily, and I am so happy to welcome you here!
I'm a wife, mom, worship leader, author, and co-host of The Boom Clap Podcast.
I created this site as a place for women to come together. This is a place to grow in faith and purpose as a generation of women.
My mission is to help women develop their faith and to live this life that they were trusted with – both intentionally and faithfully.
I want to help women understand their value in the eyes of their creator (and their family, friends, and co-workers), so that they can fully step into their purpose.
Here's a little bit about my daily life:
I live on a farm with all sorts going on.  A walk through our fields will reveal water buffalo, Berkshire pigs, heritage turkeys, ducks, chickens, cats, dogs, cows, gardens, and woods. I'm a country girl, through and through.
I'm a wife to a public school teacher, a homeschooling mom of 3 awesome kids (and yes, people totally think it's weird that we homeschool even though my husband teaches in public school), a writer, a worship leader, a health and wellness pursuer, an introvert, and a dark chocolate and sea salt lover.
See what my "every day" looks like by joining me on Instagram.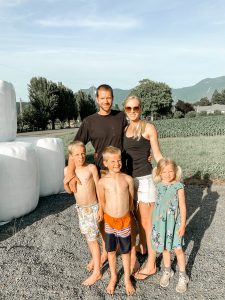 Now you know a little about me… let's get to know you!  Feel free to shoot me an email to tell me about yourself.
And a little BONUS.  Fill in this form, and I'll send you a multi-page printable that will help you get your priorities straight.  Priorities are truly SO important.  They inform how we live our lives!
Cecily Dickey.