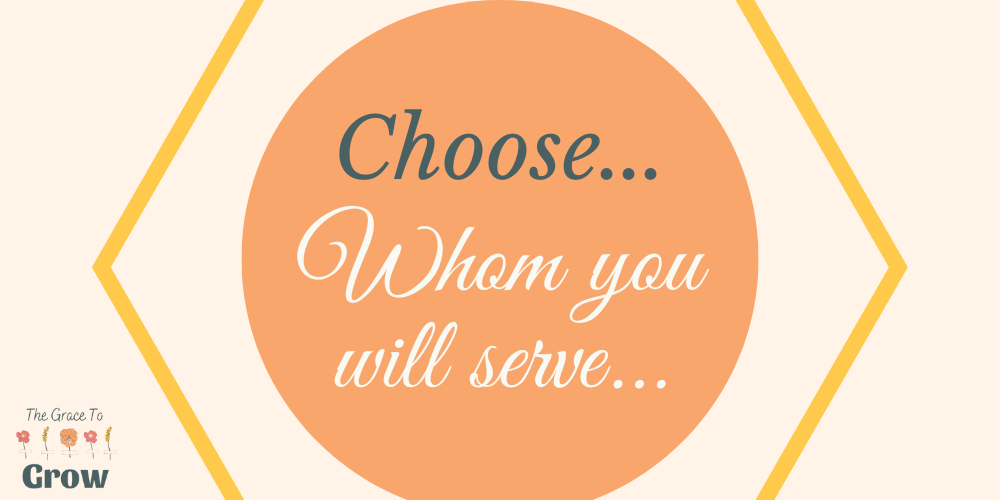 Choose this day whom you will serve…
January 1st really is just a day, like any other day. But there's something beautiful about a fresh start. Whether it's the start of a new year, a new month, a new job, a day… or even a moment. The opportunity to start fresh is so appealing. But when we're looking at our lives… how do we determine where to start? We start with what we value. If you take a look at our broader culture, you can see what it values. In fact, I polled my Instagram followers to see what they believe our culture values. Here are some of the things they said:
Self
Diversity, equity, inclusion
Money, beauty, power, image, prestige
Acceptance/Tolerance
Comfort, ease, convenience
Safety/Health
There were many submissions, but most fit into these main categories.
What does this tell us about who our culture serves?
When I look at that list, it appears that if our culture was asked the question, "choose this day whom you will serve," it would choose SELF.
The phrase "whom you will serve" is taken from Joshua 24:15. Joshua is speaking with the Israelites, imploring them to serve the One True God. He is asking them- whom will you serve? He asked them if they would choose to serve the gods of the Amorites… the people in whose land they dwelt… or if they would serve the gods their fathers had served.
Joshua tells them that he will choose to serve the Lord. The people insist that they will, too! Then Joshua takes a counter-cultural approach. At least, it would be seen that way today. He looks at the people and declares to them that they are not able to serve God. He knows they are weak. Today, most pastors, life coaches and influencers would say, "you can do anything you set your mind to! Follow your heart!"
Joshua didn't want to just blow smoke. He wanted the people to realize that to serve God means you choose to serve Him with your WHOLE life… not just part of it, and not just when it's convenient.
RELATED POST: The Church in Laodicea – Things are not what they seem
Whom You Will Serve
Now, that question may have been asked generations ago… but you need to ask yourself the same question. Choose this day whom you will serve. The gods of today may not be gold or wooden statues, but idolatry is alive and well. The idols have just shifted. The "values" identified in our culture were listed above. ALL of them pointed to SELF. At first glance, all of the things that were listed might seem good. But if we're pursuing them for the wrong reasons, or implementing them in the wrong way, they're harmful.
We cannot serve God and money. Or God and fame. We cannot serve God and security. And we cannot serve God and SELF.
So choose whom you will serve.
But Remember…
As you strive to serve God and love God with all your heart, soul, mind and strength… Christ has come. Your glorious and eternal inheritance is not dependent on your performance, or perfect faithfulness in all moments.
What grace we have been given! When we repent and turn to Jesus, we are no longer bound by sin and death. Instead, we are given "an inheritance that is imperishable, undefiled, and unfading, kept in heaven for you, who by God's power are being guarded through faith for a salvation ready to be revealed in the last time" (1 Peter 1:4).
Choose Jesus. Serve Him and love Him will all your heart, with all your soul, with all your mind and with all your strength. But remember that it's not through your ability to be perfect that you're justified… It's through Christ that you are justified. As the lyrics in the song, Cornerstone, proclaim, "dressed in His righteousness alone, faultless stand before the throne."

RELATED POST: What Does God Say About Me?
RELATED POST: Get Your Priorities Straight
Whom You Will Serve – Choose Jesus
And when you choose Jesus, you will find yourself dressed in His righteousness, an heir of God.