Here's the thing.  Momming is hard.  And homeschool can be pretty hard, too.  When we started homeschooling, I had to convince myself that if we were going to do this big, awesome, feels-kind-of-scary-thing, then I needed the right tools and homeschool supplies to make each day easier.  There's no point making hard things harder.  Am I right? So, here are my absolutely essential homeschool supplies!
THIS POST PROBABLY CONTAINS AFFILIATE LINKS.  IF YOU WANT TO READ THE FULL DISCLOSURE POLICY, CLICK HERE.
**UPDATE** We have now been homeschooling for a year, and I am SO thankful I invested in the right supplies!**
I sat down and started imagining what our homeschool days would look like.  It's hard to imagine when you've never actually homeschooled!  But, I did my best and purchased what I thought we would need.  There were a few things I nailed, and there were a few things I bought but didn't actually need (the worst).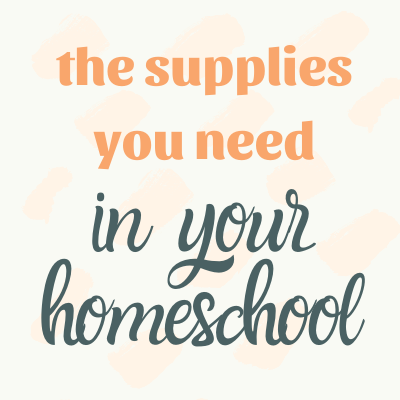 Also, there were a few essential  homeschool supplies I should have got, but didn't realize we needed until after I actually schooling.  Not having those things made homeschool a little bumpier in the beginning than I would have liked.
I want to make things easier for you by helping you skip over that part where you buy stuff you don't really need, and don't buy stuff that you really do need.  You're busy, and I totally get that… because… we're moms.  So let's do this the easy way.
Because I like things pretty cut and dry and want to keep things easy for you guys, I've made two lists for you.  One list is for homeschool essentials that you buy once and love forever (or at least close to forever).  The other list is must have homeschool supplies you'll buy annually.
RELATED POST: Confessions of a homeschool Mom
Buy Once, Love Forever List – Essential Homeschool Supplies:
A wireless all-in-one printer

. This was the absolute best purchase I made.  Our previous printer was slow, limited, and expensive to print on.  Now I bought the Brother MFC – J985DW.  This is an ink-jet printer that is cheaper to print on than a laser printer.    It's fairly quick, prints double sided, black and white or color, regular paper, card-stock, scans, copies, and faxes (if you're into that).  And it's so affordable.  Check it out here.  This is an essential homeschool supply you will NOT regret!
Craft Cart!  Who wouldn't love one of these?  It makes it easier for your kids to not only grab what they need and go, but they'll know exactly where to go to clean things up again!  And it's just so cute. Am I right??
Laminator.  I didn't buy this right away.  That was silly.  Don't be silly like me.  Laminators are not expensive, and they make homeschool life so much easier. By the time my laminator made it to me in its Amazon Prime box, I had a stack of papers to laminate.  I had myself a laminating party that night.  And I'll never look back.  This is the laminator I bought.
Laminator pouches. My laminator came with 2 pouches, which is pretty standard, but not sufficient for homeschool life.  So, I bought this pack of 100 and I expect it to last for quite a while.
Electric pencil sharpener. Unless you want to spend half your life sharpening pencil crayons and HB pencils, do not delay.  Buy yourself an electric pencil sharpener.  Bonus:  the kids love sharpening pencils.  They think it's the coolest invention ever. This is mine.
Good Quality Binders. Don't skimp on the binders.  I bought a few great, hard-cover binders, and then I started to get cheap and bought some flimsy-cover ones.  I curse those things every day as they slump in the shelf.  These binders that I'm linking have been great for us.  And the good news is, with some TLC, they'll last for years. Get enough for all the different subjects and kids!
Blackboard/Whiteboard/Magnetic easel. This thing is so great!  All our kids love this.  It's a hot item every day.
Magnetic letters and numbers. Depends on your kids' ages, obviously.  But we're loving it for pre-school to grade 2.
Playing cards. I have found these to be incredibly helpful for assisting my son to identify numbers.  Bonus points if they're fun like these or these.  Our daughter loves these, and our sons love these.
Skip-Bo. Also great for number identification.  Are you starting to sense this has been a bit of a struggle for one of my children?? Also, this game was my grandmother's favorite… so bonus points for good family memories.
Storage bins. Storage bins for craft supplies, bingo markers, manipulatives, stamps, sensory activities…. The list goes on.  You need storage.

Counting bears with sorting cups

. These are adorable and have been so handy in math for counting.
Individual pencil cases. Don't do what I did and get just one communal box for pencil crayons and felts.  Instead of wasting time on that, get each kids their own from the start.  Just trust me.
Heavy Duty 3-hole punch. Don't waste your time on a tiny hole puncher unless you want to develop tendinitis.

Paper cutter

. Because you will be cutting paper. Lots and lots of paper.
And staples.
Paper Clips. Get the fun colored ones.  They'll brighten up the darkest day.
iPad.  This was another purchase we didn't make right away, but it is worth it!  There are so many amazing educational apps and programs (Find my favorites in this post), and at least for my kids, having a combination of paper, hands-on, outdoor, and screen learning keeps them most focused and engaged throughout the day.
Don't forget to check out Confessions of a Homeschool Mom
The Annual Homeschool Essentials List:
Pencils. Obviously. So many pencils. Multitudes of pencils are must have homeschool items.
Pencil crayons. Obviously.
Crayons.  I'll stop saying obviously now.
Pastels  Pastels were my favorite when I was a kid… My kids love them, too!
Pens.  But only good pens.  There are few greater pleasures in life than pens that write beautifully.  Try these.
Big white erasers. Don't try to mess around with the erasers on the end of the pencil.  Those will So. Not. Cut. It.
Notebooks. For Nature Journaling or journaling favorite memories. I like the wide rule pages… More space for writing all their adventures!
Bingo daubers. Who knew those things were so useful?
Stick glue. School glue.. Glue. Lots and lots of glue.
Art supplies. Like puff balls and pipe-cleaners and all that good stuff. A kit like

this

is perfect.
Essential Homeschool Supplies
That, my friends, is a master list of the homeschool supplies that will make this year awesome.
Did it feel like I was spending a lot of money all at once? Yes.  But then I remembered my kids were previously in private school, and what I was spending on homeschool supplies was less than a month of tuition.  And here's the thing:  everything I purchased would be used super regularly.  It would make homeschool possible.  And not only will the supplies last the year… some of them will last for many years!  Sounds like a win.
What do you think of these lists?  Did I leave anything out?  Let me know in the comments what your must-have homeschool items are!
Every homeschool mama is doing her best!  One thing that is incredibly helpful as I go through good days and hard days is to remember what's true and important!  Grab this free worksheet all about your priorities to help you keep what's most important in perspective!