When you think of being a good steward, what comes to mind?  For so many, our minds go straight to money.  But the truth is, there's so much more that goes into how to be a good steward.
The definition of stewardship: the conducting, supervising, or managing of something – especially : the careful and responsible management of something entrusted to one's care (Merriam-Webster Dictionary).
The emphasis there is on the latter half of the definition: the careful and responsible management of something entrusted to one's care.  That means stewardship is taking care of things that are not intrinsically ours.  They're things that have been given, and trusted, to our care.
When I used to think about being a good steward, I just thought it meant taking care of my things, being responsible with my money, etc…  What I didn't realize at that time, was that my things that I thought I was supposed to be caring for… weren't mine at all.  They all belong to God.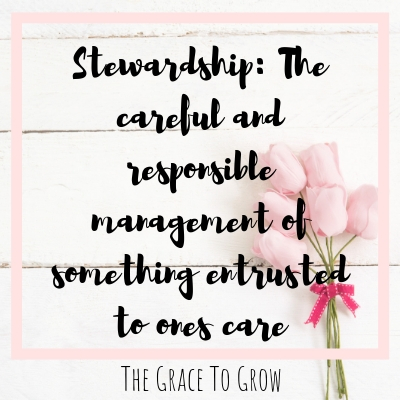 THIS POST PROBABLY CONTAINS AFFILIATE LINKS.  IF YOU WANT TO READ THE FULL DISCLOSURE POLICY, CLICK HERE.
It all belongs to God.
What?  Am I asking us all to believe that the things we've worked so hard for, the kids that we call our own, the money that we've stashed away, the homes, the cars, the comforts… none of it is actually ours?
Yes, that is the uncomfortable truth.
I THINK YOU MIGHT LOVE THIS POST ON LIVING WITH INTENTION.
Be a Good Steward
Let's get right down to the real truth.  It may seem like an uncomfortable truth… but here's the thing about truth.  No matter how uncomfortable truth is, it brings freedom.  And that is worth so much more.
EVERYTHING we have is a gift from God.  The sun shining down on you? Gift.  The house you live in?  Gift.  The kids tucked in their beds? Gift.  The food you ate? Gift.  The car you drive?  Gift.  The money you have? Gift.
Why are all of these things gifts?  Why are they not your own?  You are the one that has worked for them… right?  I can tell you why these things are gifts:  It's because your life, and the very breath in your lungs is a gift.
The same God who spoke light into existence, created the waters, placed the stars, balanced our universe, and made this earth capable of supporting life, is the same God who breathed life into your body.  He prepared you for a reason and for a purpose.  God equipped you with the skills and personality required to be a steward of God.
You are not merely on this earth to live a good life, raise some awesome kids, save for retirement, and live out your golden years as comfortably as possible.  You are here to spread the love of Jesus, make known the gospel, and bring glory to our father.
He gave you what you need to be a good steward and to live out your purpose faithfully.  How can we ensure we're doing it faithfully?
Let's take a look… What does God say?
WANT TO KNOW HOW TO MANAGE YOUR TIME WISELY? CLICK HERE!
Good Stewardship Examples
As usual, God does not leave us without a road map and examples.  The Bible is an amazing, ancient guide, that is just as applicable today as it was 2000 years ago. Thankfully, it also covers how to be a good steward.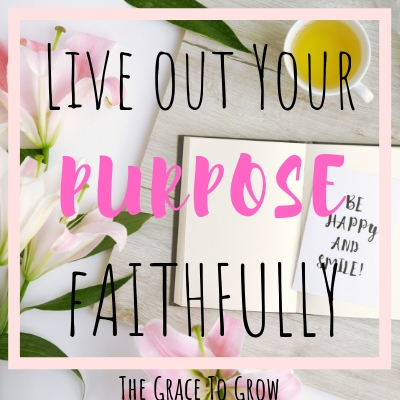 One of my favorite passages is the parable of the talents in Matthew 25:14-30. I often think of it as the good steward parable.
To summarize, it's the story of a master who is leaving for a journey.  He calls three of his servants, and gives them each some money (called talents) to watch over.
To one he gives 5 talents, to another he gave 2, and to the third, he gave one talent.  Each one received and was entrusted with a certain amount.
After a while, the master returned.  When he came back, the first servant showed the master that he had earned 5 more talents for the master on top of the 5 he had been entrusted with.  The second servant proved that he had earned another 2 for the master.
It started to go south when the third servant came to present what he had done with the talent he had been entrusted with.  Unfortunately, he had done nothing.  He buried it in the ground out of fear.
What did the master say in response to this waste?  He called the servant wicked and slothful (ouch, am I right?).  Not only this, but while the other two were being trusted with more and receiving rewards, this servant was sentenced to punishment.
LEARN HOW TO GET YOUR PRIORITIES STRAIGHT. FREE MULTI-PAGE WORKSHEET!
What is God telling us with this example of a good steward in the Bible
In this Biblical example, Jesus has given us a clear and sobering truth:  We are not to waste what he has given us.  We are not to hide what he has given us, and we are not to do nothing with what he has given us.
He calls me, and he calls you, to be a good steward.
The first 2 servants in the story were faithful. Because of this, they receive a reward.  They took what the master trusted them with and turned it into more.  They put those gifts to work, and, as a result, brought glory to the master at the same time.
The third servant hid the gift.  As a result, It didn't grow, it didn't bless others… it simply stayed buried in dirt.  If that's what we do with what God has entrusted to us… what's the point of being given anything at all?
God wants to see us use the gifts he gives us to be lights that shine.  Here are some things that we should steward well:
be a good steward of our time
our gifts
talents
our money
homes and possessions
our faith
families
our friendships
being a good steward at work
be a good steward of the earth
our entire lives
THIS POPULAR POST ABOUT PRAYING SCRIPTURE COULD COMPLETELY CHANGE YOUR PRAYER LIFE
Qualities of a Faithful Steward
This is where you might expect to see a drop down list that details all the many qualities of a faithful steward.
But the truth is, if you want to be a good steward, the list of qualities is short:
Believe and understand that everything you have is not your own.
Believe and understand that everything you have belongs to God.
In everything you do, and with every decision you make, look first to how you can serve the Lord.  Always invest the things he's trusted to you into kingdom work.
Love God first, and love other people second.
Why Is Stewardship Important
Being a good steward is so important.  If we don't steward well, we're as guilty as the third servant in the parable from Matthew 25.
There are many more Bible verses that talk about the importance of being a good steward. Here's just a few:
Time to self evaluate! Because of what I've learned in my study of stewardship, I know that I have so much room to grow in my journey of being a good steward.  How about you?  Do you see areas that you can grow?  If you're looking for a little more, grab this free worksheet to help you identify, understand, and live out your priorities! 
CHECK OUT THESE RELATED POSTS!
A Guide To Managing Your Time Wisely
The Benefits of Praying Scripture