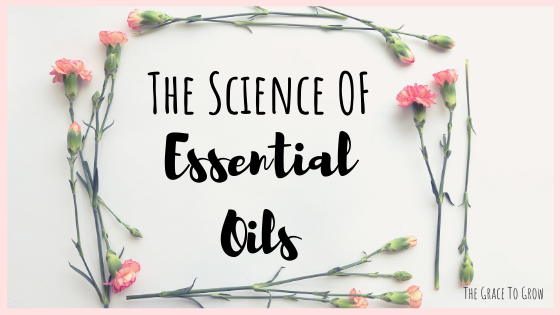 Hello, I am Natalie Brett from @Pearlescent_Prosperity and I am so grateful to Cecily for inviting me to guest blog and speak to you on the science of essential oils.  Before we jump in, let me tell you how I got into essential oils.  
THIS POST PROBABLY CONTAINS AFFILIATE LINKS.  IF YOU WANT TO READ THE FULL DISCLOSURE POLICY, CLICK HERE.
Importance of Essential Oils – My journey to essential oils
I've lived a holistic lifestyle since the early 2000's.  My mom died from breast cancer when I was a sophomore in college.  That was a huge, life-altering experience. 
Because of that experience, I began to question my lifestyle, and started to do a lot of research.
I found was that genetics play a huge part in health, but so can the environment.  While we can't change our genetics, we can control certain aspects of your environment.  This includes what we put on our skin, in our body, and feed our mind. It all matters. 
About six years ago, I read an article on the positive impact of frankincense on unhealthy cells. From that point on, I knew I wanted them in my life.  I started using essential oils for health, cleaning, and emotional support.  
You may enjoy this related post on DETOX
Effects of Toxic Chemicals on Human Health
Everything that we come into contact with has an impact on our body.  Continued use and exposure to chemicals can build up in our cells over time to levels that are detrimental to our health.  Our bodies and organs have to combat so many environmental threats that are out of our control. Why not control the controllable stuff to lessen the toxic load?  
Brief Introduction to the Science of Essential Oils 
The science of essential oils is fascinating.
Essential oils are natural aromatic compounds that come from various parts of the plants.  This could be from seeds, flowers, or the leaves.  These volatile constituents display various biological activities including antimicrobial, antioxidant, antifungal, and antiviral.
These little warriors provide the plant with its' defense mechanism to ward off parasites, fungi, bacteria, weather, and predators.  For example, a tree that is wounded may produce a sap for repairing the problem area.  
Essential oils are a complex mixture of chemical compounds that work well to support our bodies because the oils can interact with us on a cellular level. 
Hippocrates, the Father of Medicine, used plants to help his patients. The essential oils work on our body in a similar way that they work in a plant. For example, frankincense essential oil is great for stimulating self-repair of our skin and supporting us on a cellular level.  It does the same thing for the tree!  The oils are effective at helping our body achieve homeostasis.
RELATED POST: House Plants for Air Quality
Quality and testing of essential oils is important to make sure that the essential oil is free of contaminants, pesticides, and pollutants.  You also want to be sure that the chemical components of an essential oil exist in the correct ratio. This can vary based on where and how the plant is grown.  Essential oils that do not meet the correct ratio may not perform as expected with our body chemistry.
Topical Use of Essential Oils
Essential oils evaporate when exposed to air.  They are more soluble in fats and oils.  This is why a carrier oil is important for topical use of essential oils. Carrier oils help to "weigh" the essential oil down for great aromatic and therapeutic benefit.  Topical use of essential oils is great for immune support, and also therapeutic relief, such as sore muscles.
Immune Boosting Essential Oils Recipe:
In a 10 ml roller, combine in the following essential oils and the top off with a carrier oil:
10 drops of Frankincense

10 drops of Lemon
10 drops of Oregano
10 drops of Onguard
10 drops of Melaleuca (Tea Tree Oil)
Aromatic Use of Essential Oils
One of the most powerful ways to experience essential oils is aromatically.  As you inhale an essential oil, it travels up the nasal passages to the olfactory bulbs.  There it finds the emotional headquarters of the brain – the limbic system.  Aromatic inhalation is the only way to have a direct impact on the amygdala. This is the place where emotional experiences and memories are held. Because of this, essential oils can have a huge impact on mindset, anxious feelings, and emotions.  Try this diffuser recipe next time you want to calm the mind.
Calming Moments Diffuser Blend
In a diffuser, add water and 2-3 drops each of Lavender, Frankincense & Copaiba.  
I know you're serious about living an intentional life!  Fill in the form below to have a FREE printable worksheet on PRIORITIES sent to you!
These statements have not been evaluated by the Food and Drug Administration. Essential Oils are not intended to diagnose, cure, treat, or prevent any disease and are not intended to replace any medical treatment.
This was a guest post by Natalie Brett Daggerhart.  Natalie is a biologist who is passionate about holistic health, and keeping essential oils simple! You can find Natalie on Instagram!