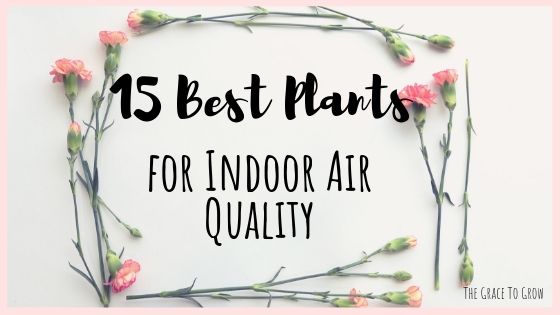 This post fits well with the post I did on how to detox your home.  We learned in that post that our homes, and the air quality inside, is MUCH more polluted than the outside air.  My second favorite way to keep the air inside my home clean is to open the windows.  But my FAVORITE way to keep the air inside clean is with house plants!  In this post, I'll be revealing the top 15, best indoor plants for air quality!
THIS POST PROBABLY CONTAINS AFFILIATE LINKS.  IF YOU WANT TO READ THE FULL DISCLOSURE POLICY, CLICK HERE.
The amount of toxins and chemicals in our everyday, household items is staggering.  I'm not just talking about household cleaning products, or beauty products.  I mean our furniture, household surface, paint, and more.  Yes, even that comfy couch you're sitting on is filled with toxins.
I don't say this to stoke fears.  That's unnecessary.  For example- I have all the same toxins in my house.  I'm not afraid to snuggle up on my couch, or eat off my table.
But I do believe there is a level of power in the knowledge of toxins surrounding us.  When we know what poses a threat, we can work to mitigate those risks.  Plants that improve indoor air quality can be a big part of that mitigation strategy!
RELATED POST: HOW TO DETOX YOUR HOME
Why is it necessary to have plants that improve indoor air quality?
Plants are amazing.  In fact, all of nature is amazing.  I think it's incredible how thoughtfully the earth was created, and how everything has a purpose.
Certain plants have the ability to actually clean toxins out of the air.  Much the same way that trees take in CO2 and output O2.  What a beautiful reciprocation!
So, before we get to talking about the best plants for indoor air quality, let's take a look at some of the toxins that are actually floating around our homes.
RELATED READING: DECLUTTER YOUR HOME AND YOUR LIFE
Toxins Of Concern In Our Homes
Formaldehyde.  Formaldehyde can cause eye, nose and throat irritation, shortness of breath, allergies, and it is carcinogenic.  Some common places you'll find formaldehyde include cigarette smoke, mattresses, pillows, and bedding (ew), furniture, air fresheners, nail polish and nail polish remover.
Toluene.  Toluene causes damage to the brain, nervous system, liver, kidneys, lungs, and immune function.  You can find toluene in spray paints, primer, multi-purpose cleaners, contact cement, floor polish, paint thinners, bath mats, wood sealers, pens and markers.
Xylene.  Xylene causes damage to the liver, kidneys, lungs, heart and nervous system.  It is commonly found in Aerosol paint, agricultural chemicals, architectural coatings, car polish, caulking, epoxy, liquid or aerosol house cleaners, floor polish, fungicides, pesticides, and insecticides.
Tricholoroethylene.  Causes damage to the nervous system, liver, respiratory system, kidneys, blood, immune system, heart, and is a factor in body weight.  Tricholoroethylene is commonly found in wood finishes, adhesives, paint removers, and stain removers.
Benzene.  Causes damage to bone marrow, it can decrease red blood cells, it can cause leukemia, and it can cause cancer of blood forming organs.  Benzene is commonly found in paint, lacquer and varnish remover, solvents, gas and other fuels, glue, paint, furniture wax, detergent, thinners, ink, adhesives, rubber, cleaning and degreasing formulas.
Acetone.  Causes irritation of nose, throat, lungs and eyes.  Prolonged exposure can result in dry, cracked, red skin.  Acetone is found in nail polish and remover, varnish, wax, resins, inks, plastics, fibers, drugs and film.
Ammonia.  Ammonia causes irritation for the nose, throat, and lungs.  It is commonly found in glass and window cleaners, multi-purpose cleaners, toilet bowl cleaners, shining waxes, and oven and drain cleaners.
RELATED READING: LIMITING SOCIAL MEDIA'S POWER IN YOUR LIFE
Best Plants For Indoor Air Quality
So, when you realize how many toxins are actually floating around in your house… then getting some indoor plants that clean the air and remove toxins is kind of a game-changer!
There are air purifying plants for the bedroom, bathroom ,living room… You'll want them everywhere!  This list will even cover the best indoor plants for asthma.
15 Best Plants For Indoors
Bamboo Palm.  Great for removing Formaldehyde.
Lady Palm.  Cleans carbon dioxide, formaldehyde, xylene, and ammonia from the air.
Areca Palm.  A champ at removing toluene and xylene.
Rubber Plant.  Very effective at removing formaldehyde and converting CO2 to O2.
Dracaena.  Clears trichloroethylene, benzene, formaldehyde & xylene.
Philodendron.  Effective air purifier.
Dwarf Date Palm.  Removes airborne chemicals and clears xylene.
Ficus Alii.  Removes chemical vapors, benzene, fomaldehyde, and trichloroethylene
Boston Fern.  Best for removing formaldehyde and xylene.
Peace Lily.  Removes alcohols, acetone, trichloroethylene, benzene, ammonia, formaldehyde, purifies and humidifies indoor air.  Be cautious as it is toxic to humans and pets.  That being said, we have 6 of these in our house (and we have for years), and the kids and the dog leave them alone.
Garden Mum.  Removes ammonia, benzene, formaldehyde and xylene.
Spider Plant.  Formaldehyde, xylene.
Snake Plant.  Removes benzene formaldehyde, trichloroethylene and xylene.
Aloe Vera.  Removes formaldehyde, and is handy to have on hand for health and first aid purposes.
Bamboo Palm.  Clears benzene, formaldehyde, and trichloroethylene.
RELATED READING: HOW TO BE MORE PRODUCTIVE IN LIFE
Best Indoor Plants For Air Quality
I hope you found this summary and round-up of the 15 best plants for indoor air quality helpful!
If you're looking for some further reading, check out these sites:
As always, I like to offer something to those of you who read my articles!  If you're looking for help managing your time and keeping your priorities straight, fill out the from below!  I'll send you a FREE multi-page worksheet to help you out with that.  If it doesn't land in your inbox within a couple minutes, check your junk folder.  Far from junk… but you know how the internet can be!
RELATED READING: THE BEST SIMPLE HEALTH TIPS TO TRANSFORM YOUR LIFE